These 3 Common Revenue Management Myths Can Hurt Your Bottom Line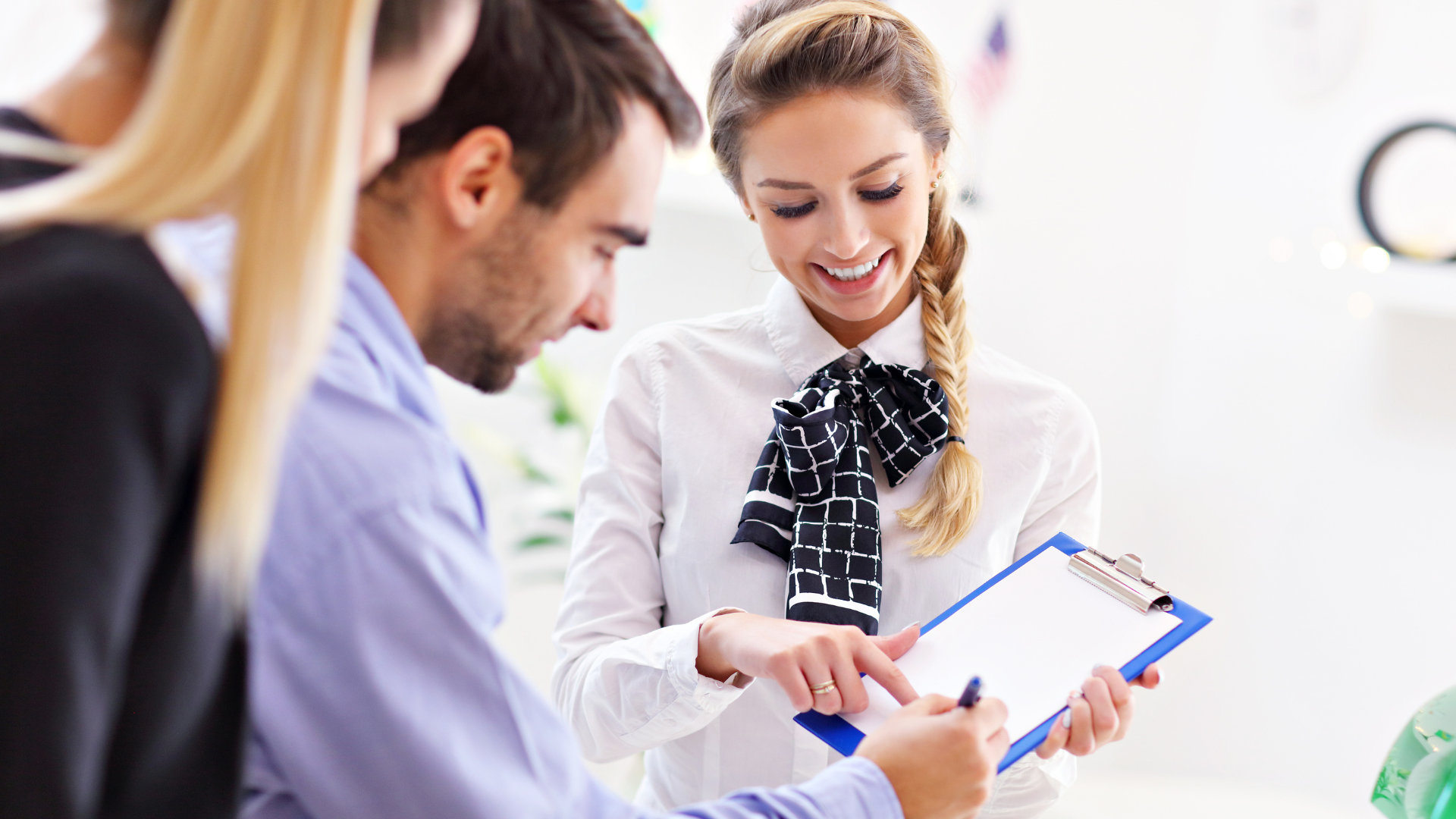 Many hoteliers misunderstand revenue management. They think it's all about lower prices when it's actually about online visibility and brand reputation.
Lowering prices during low demand is one way to ensure you can maximize your room rates a few weeks later when demand picks up.
If you've ever thought low rates correlate to low-quality guests, you may be surprised the data shows otherwise.
Professional revenue managers know lowering rates in low season results in positive reviews, which boosts the property's image online.
This positive reputation means your hotel maintains a good score on Booking.com and other OTAs, so potential guests find and trust your hotel. That way, you can charge higher rates during high season than you may have in the past.
First, let's review the myth that low rates attract low-quality guests.

Myth #1 Low Room Rates Don't Mean Less Desirable Guests
This myth comes from not understanding how revenue management works. Revenue managers make decisions based on historical data and predictions with an eye on the annual revenue.
This means in low season, it can make sense for a hotel to lower its rates to attract guests. After all, a hotel has fixed inventory, and if you don't sell the room today, that's lost potential revenue.
Some hoteliers say they'd rather not sell the room than sell it at a low rate because they fear the low rate will attract guests who may damage the room or be rude to other guests.
Yet, this is subjective thinking. There's no data showing a "correct" rate that only attracts polite and respectful guests. Guest quality depends on their character, and that's unrelated to money.
Myth #2 Low Rates will Damage the Hotel's Online Reputation
Some hoteliers think pricing rooms at a low rate during low season will damage the property's online reputation.
It's actually the reverse.
When guests stay in your hotel and feel like they got a great value, they'll share their experience in online reviews. Get enough of those reviews, and your property will stay on the top of OTAs. This pays off when future guests book because you have a good online reputation.
In short, today's guests determine tomorrow's guests.
That means it's important to stay booked during low season ( within limits, there's a pricing floor), so you'll remain visible online for the high season.
Myth #3 There's a Price Ceiling
If market conditions are right, 3-star hotels can sell rooms for 1,000 euros, and your guests will happily pay for it.
As long as your room and service quality match the guest expectations, you'll get great reviews.
The problem comes if the guest's expectations aren't met. For instance, if the photos and descriptions don't match the reality, that can cause guest disappointment. If the rooms are outdated and rundown, the bathroom doesn't work, and the staff is rude, these will lead to negative reviews.
But if there's high demand due to an event in town and your rooms are fresh and your staff well-trained, yes, your rooms can command high rates.
Don't let subjective fears set your rack rate.
Instead, rely on revenue managers who use science to make useful pricing decisions.
Such pricing decisions can lead to solid reviews and ratings on Booking, TripAdvisor, etc. Rates are only one piece of the reputation equation.
Of course, if you do receive negative reviews, note why? Are the complaints founded? If they complain about lumpy mattresses and outdated furnishings, then reinvest your money in upgrading your rooms.
Hotels that lower prices and don't reinvest in refurbishment and staff training only limit their potential.
How to Improve Your Property's Online Reputation Score
OTAs use the average of your online reviews to assign your score. Since these reviews cover years, they cover all seasons and events. However, the hotel with the most frequent and recent reviews wins.
That's why it's essential to gather positive reviews in the low season. Those rave reviews in low season ensure your property stays visible in high season and counteracts any potential negative reviews.
Statistically speaking, revenue management creates the conditions for the volume of positive reviews to exceed the negative ones. Yet, gathering those positive reviews requires attention. Someone must monitor those reviews and reinvest money into the hotel's service and furnishings.
The graphic below shows a 3-star hotel's dashboard over 12 months. Transparently, this Milan-based hotel is a Franco Grasso's Revenue Team customer. The graphic shows the occupancy has always been close to 100% year-round. The most significant fluctuations in ADR (Average Daily Revenue) correspond with some months (particularly June and September) and particular dates within these months. As you may guess, these fluctuations relate to area events and high demand.

This graph shows some months attract more reviews than others. There are some negative reviews linked to pricing trends. Yet the number of positive reviews accumulated during the previous and following months keeps the hotel's reputation strong.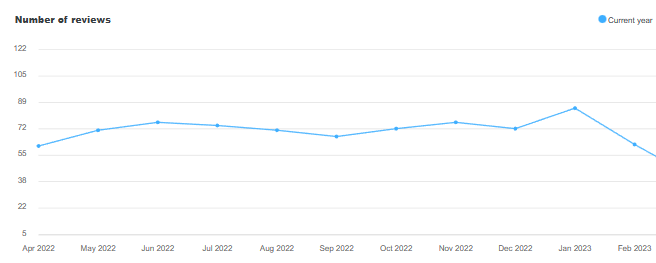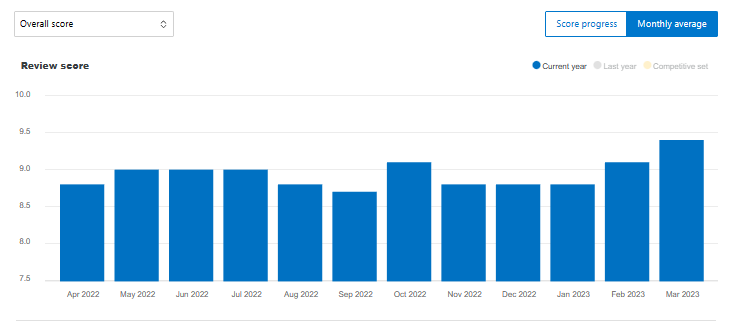 Below, you can see the overall Booking.com score remained stable (9) throughout the year. Their visibility remains high and contributes to bookings, occupancy, and ADR.
Below is a graph showing the average over time of all the reviews received in the last three years.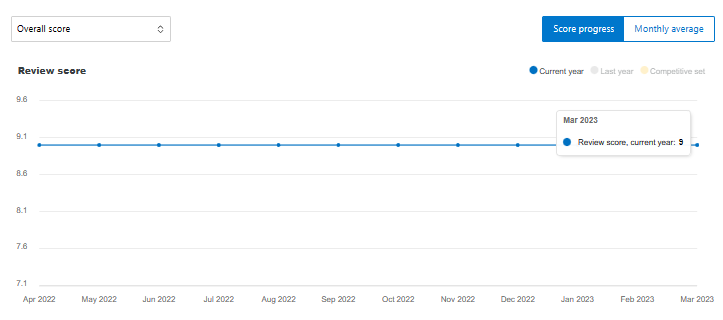 The results were much better in 2022 than in 2019 in terms of both Occupancy and ADR.


Why were the results better in 2022? Simple. This hotel incorporated revenue management to boost its online visibility and overall annual revenue.
Consider the bottom rate and the rack rate. As a hotelier, you know these represent the minimum sales rate (below which you do not fall) and the maximum sales rate (above which you do not sell). There are economic reasons (variable costs, for example, read this article for more information) in the case of the bottom rate. Yet, there are also variables that can push a higher rack rate.
This is the purpose of revenue management. As a discipline, it uses science, not emotions, to establish room rates. If the conditions are suitable for a 3-star hotel to sell for 1000 euros, why not accept it? Timing, location, and hotel reputation are everything.
For more insights about revenue management, download our free guide